A Light and Fluffy Dinner Party Dessert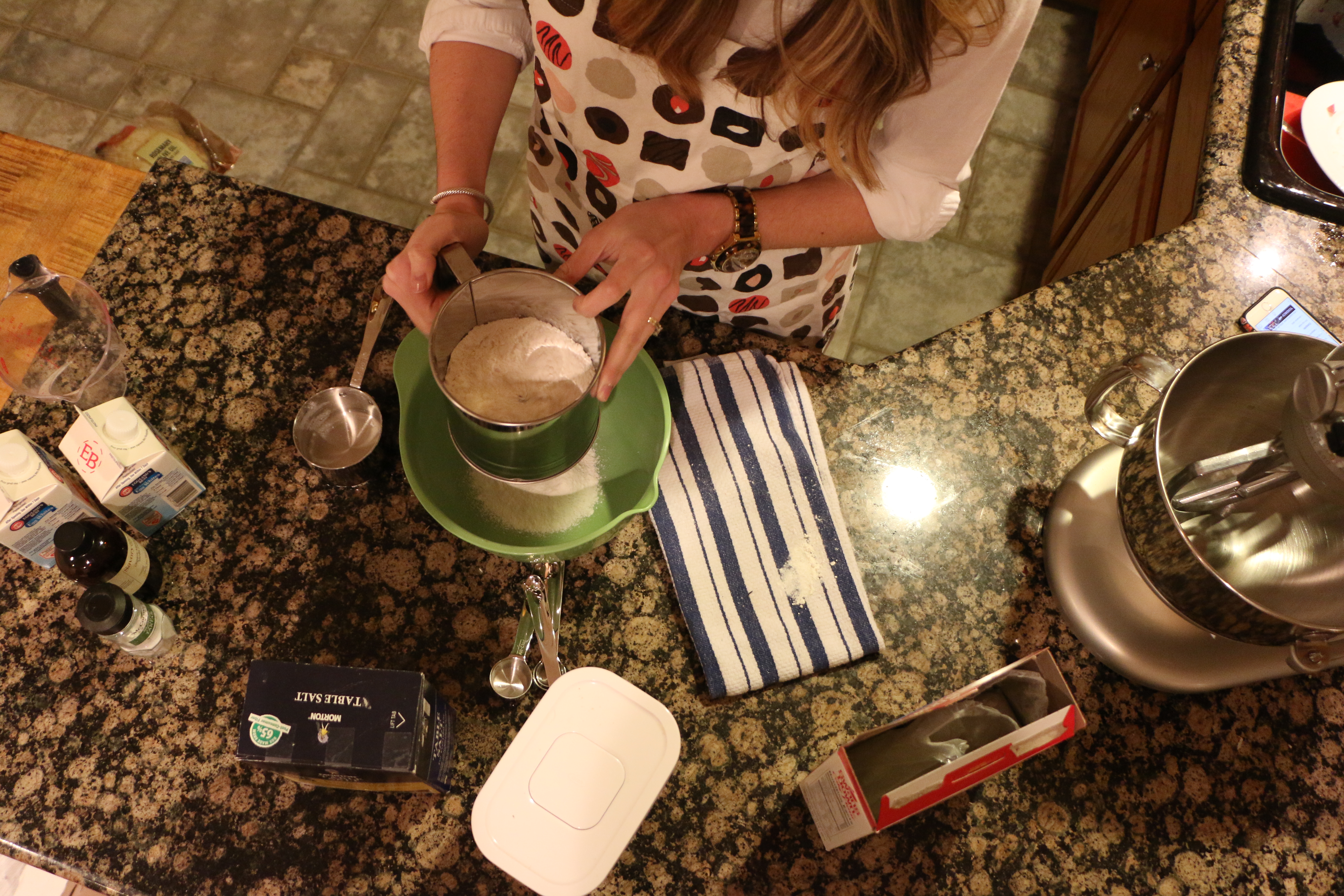 Looking for a fresh, fluffy, and easy dessert for your next dinner party? I've got it for you right here…
I had just gotten my brand-new Kitchen Aid mixer home and out of its box. It flew a few hundred miles checked via American Airlines without so much as a scratch (props to AA).
Needless to say, I was using it stat – even though our New Year's resolutions had started a few short weeks ago. This meant picking something relatively healthy to bake. The winner? Angel food cake. This recipe is a spin-off of this one by Trisha Yearwood. I went with a strawberry compote instead of a grapefruit compote because strawberries are my weakness.
The result is a light and airy cake that's perfectly spongy. It did take me two times to nail this recipe, so don't get discouraged if yours doesn't turn out the first time. Egg whites are finicky. The accompanying compote isn't exactly low sugar, but it is delicious. The sugar mixes with strawberries to create a sauce, and the grated lemon zest brightens up the whole dish.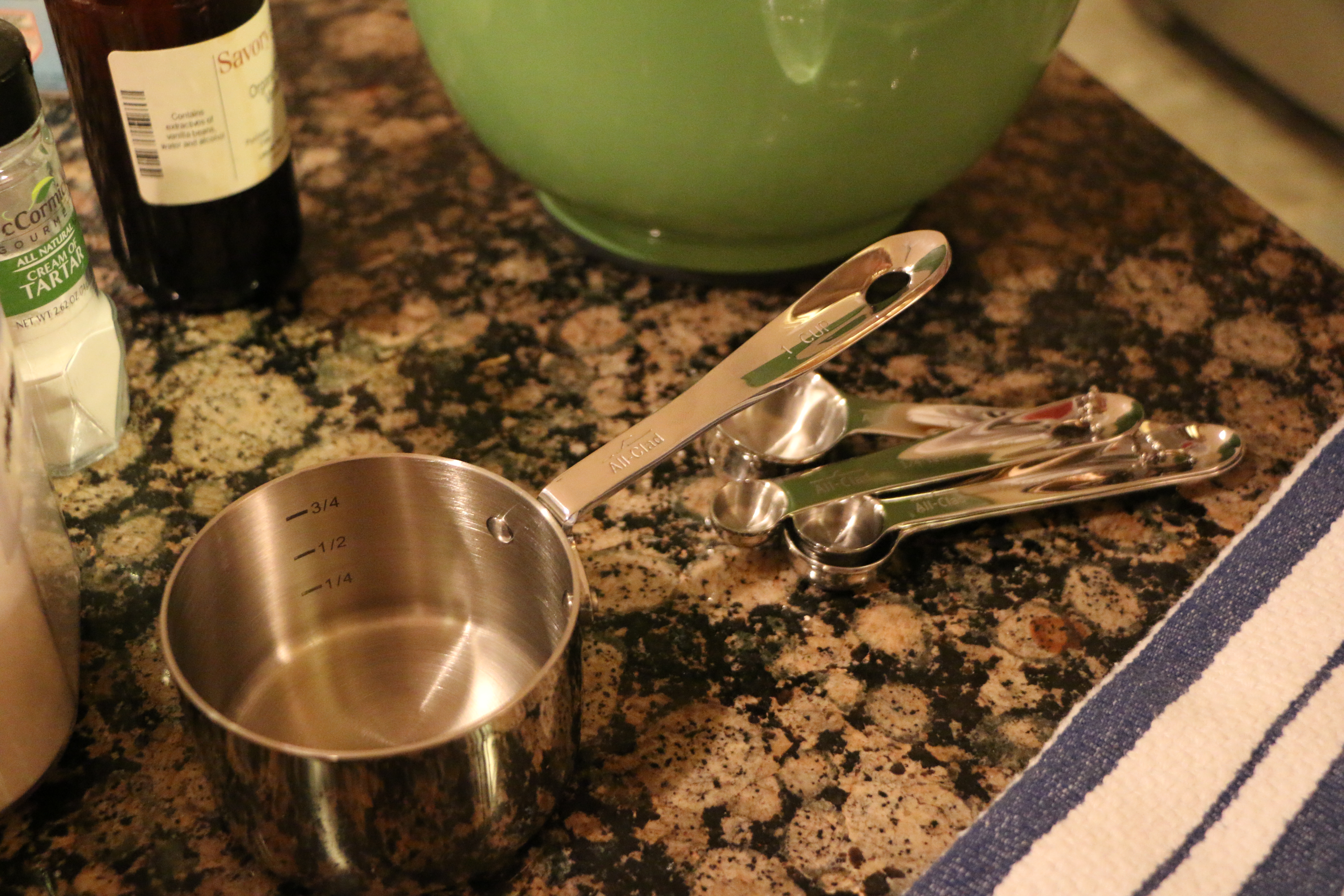 So, here's what you'll need:
For the cake:
1 cup cake flour (this really makes a difference) + a few tbsp extra for the pan
1 1/2 cups sugar (white, refined – I know)
1/4 tsp salt
12 large egg whites at room temperature (you can also use a carton of egg whites; this requires a little bit of converting, but isn't difficult to do)
1 1/2 tsps cream of tartar
1 tsp vanilla extract
Nonstick spray
For the strawberry compote:
1/3 – 1/2 c sugar (I went light on sugar; start with 1/3 cup and stir, adding more to make sure you have enough liquid to form a sauce)
1 carton of strawberries, diced or sliced depending on your preference (about 1 1/2 cups)
zest of 1 lemon
1/2 tsp vanilla extract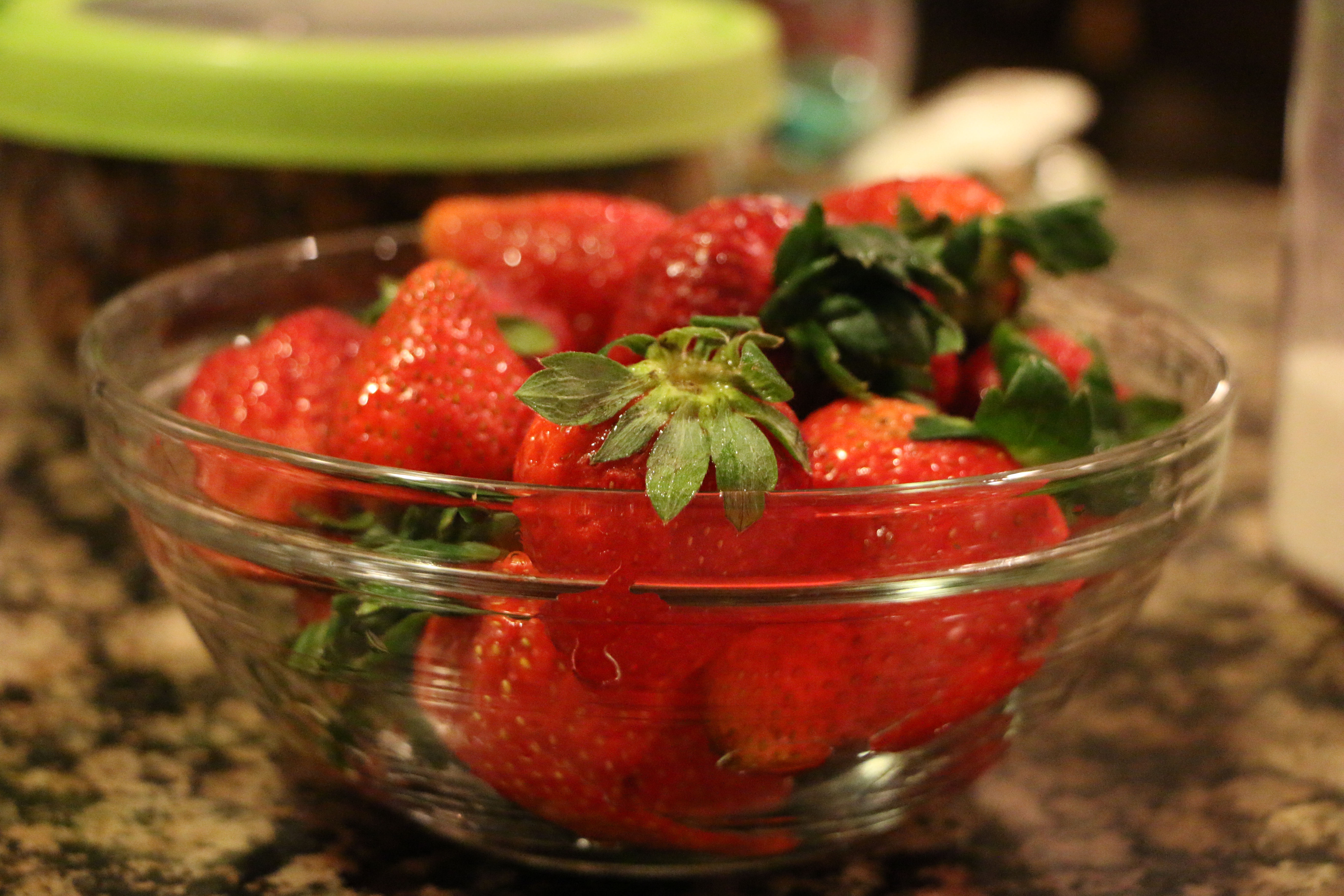 The tools you'll need:
Measuring cups and spoons (I have these and love them)
Large and medium mixing bowls + bowl for compote (I prefer something like this with the lid for easy storage)
Electric or stand mixer
Spatula
Bundt pan (I love Nordic Ware's bundt pans and have this one in gold – my go-to; the shape is so elegant)
Cooling rack
I reversed the recipe's directions and started with the compote. The longer it sits, the juicier it becomes. I also knew that I didn't want to add a boatload of sugar if I could help it, so letting the compote sit while I pulled the cake together and put it in the oven allowed me to control just how much sugar is in there a bit better.
Make sure that you check on it 2-3 times while you're prepping the cake and give it a good stir every so often. I had to add a bit more sugar here and there along the way. It's a fine balance because if you don't have enough sugar, you'll end up with berries but no sauce. And this spongy cake needs a good sauce to soak up.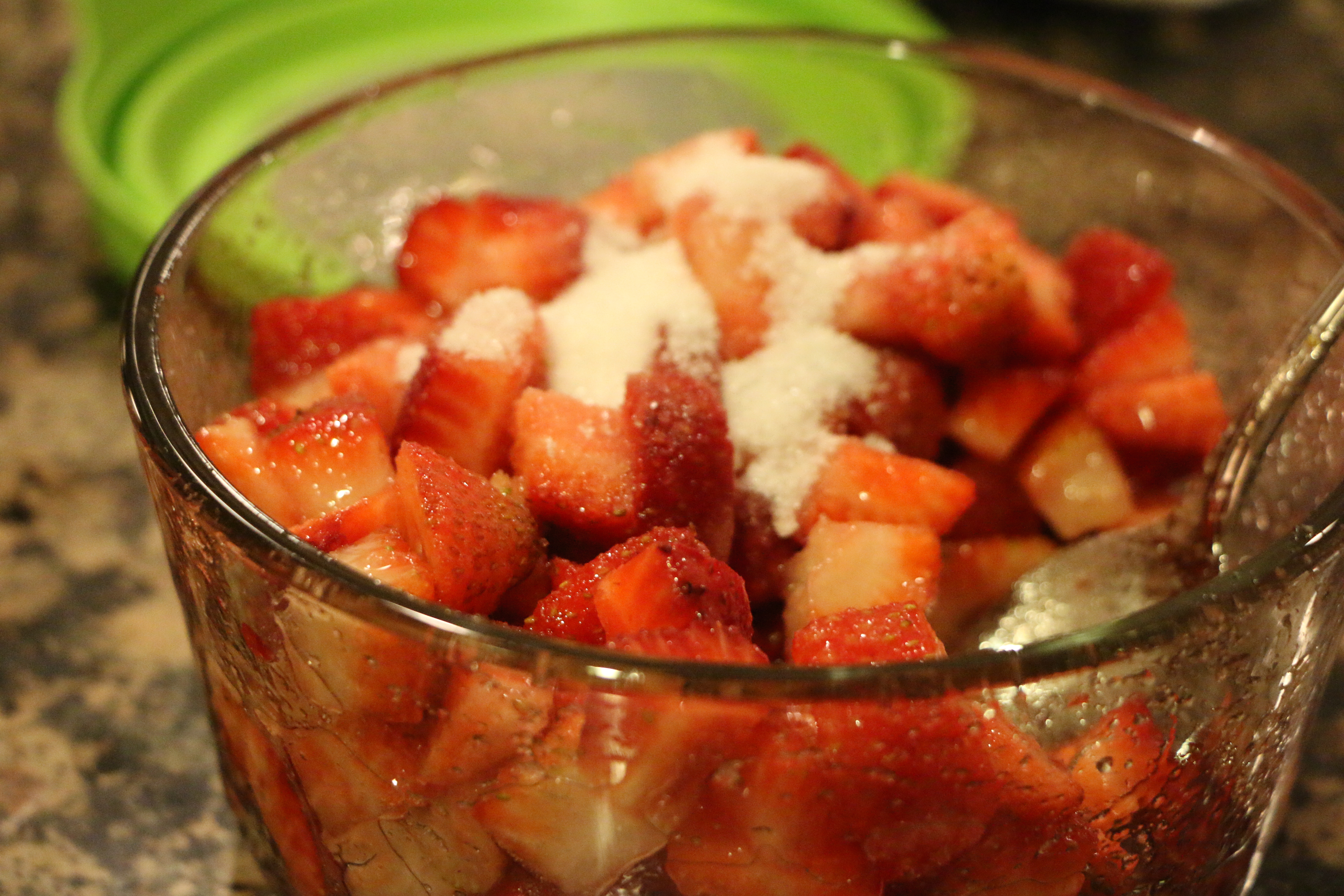 Dice or slice the berries depending on your preference. I did a rough, larger dice on mine.
Stir in your vanilla extract. Then, add your sugar, starting with one-quarter cup and adding tablespoons from there. Grate your lemon zest and add it to the mixture.
Let your compote sit and absorb at room temperature, stirring and adding in more sugar as needed every so often. Pro tip: you want to make sure that there is enough liquid so that it's a sauce. It will keep reducing down the longer it sits, producing more liquid. Once your cake goes into the oven, give your compote one last stir, then send it to the fridge while your cake bakes.
Trisha makes her compote liquid on the stove. I always end up baking with every single glass dish in my kitchen, so I try to avoid adding extra washing whenever possible. I let mine sit and absorb instead of making what's essentially a simple syrup. Adding it bit by bit also lets you control how much sugar you're adding. Chef's preference!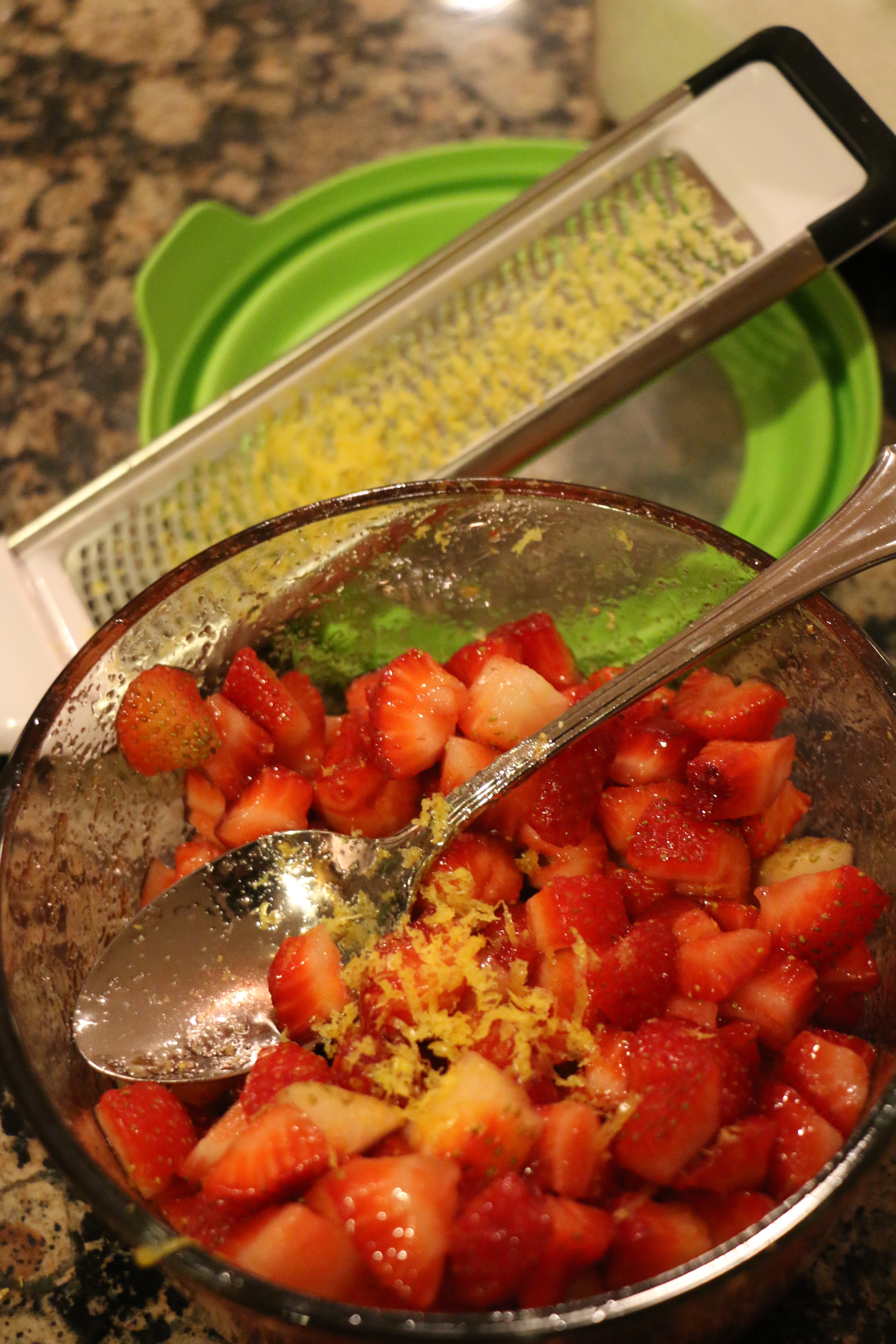 Now, on to the cake…
Preheat your oven to 350 degrees F.
Whisk the flour, 3/4 cups of the sugar, and the salt together in a medium-sized bowl to combine.
In a large bowl or stand mixer, mix in the egg whites, cream of tartar, and vanilla. Beat with an electric mixture on medium speed until the egg whites are foamy.
Next, increase the speed to high and add the remaining 3/4 cups of sugar gradually (a few tablespoons at a time). Beat until the egg whites form medium-stiff, glossy peaks. This is what will help create that airiness in your cake. Think "light and fluffy" the whole time you're doing this!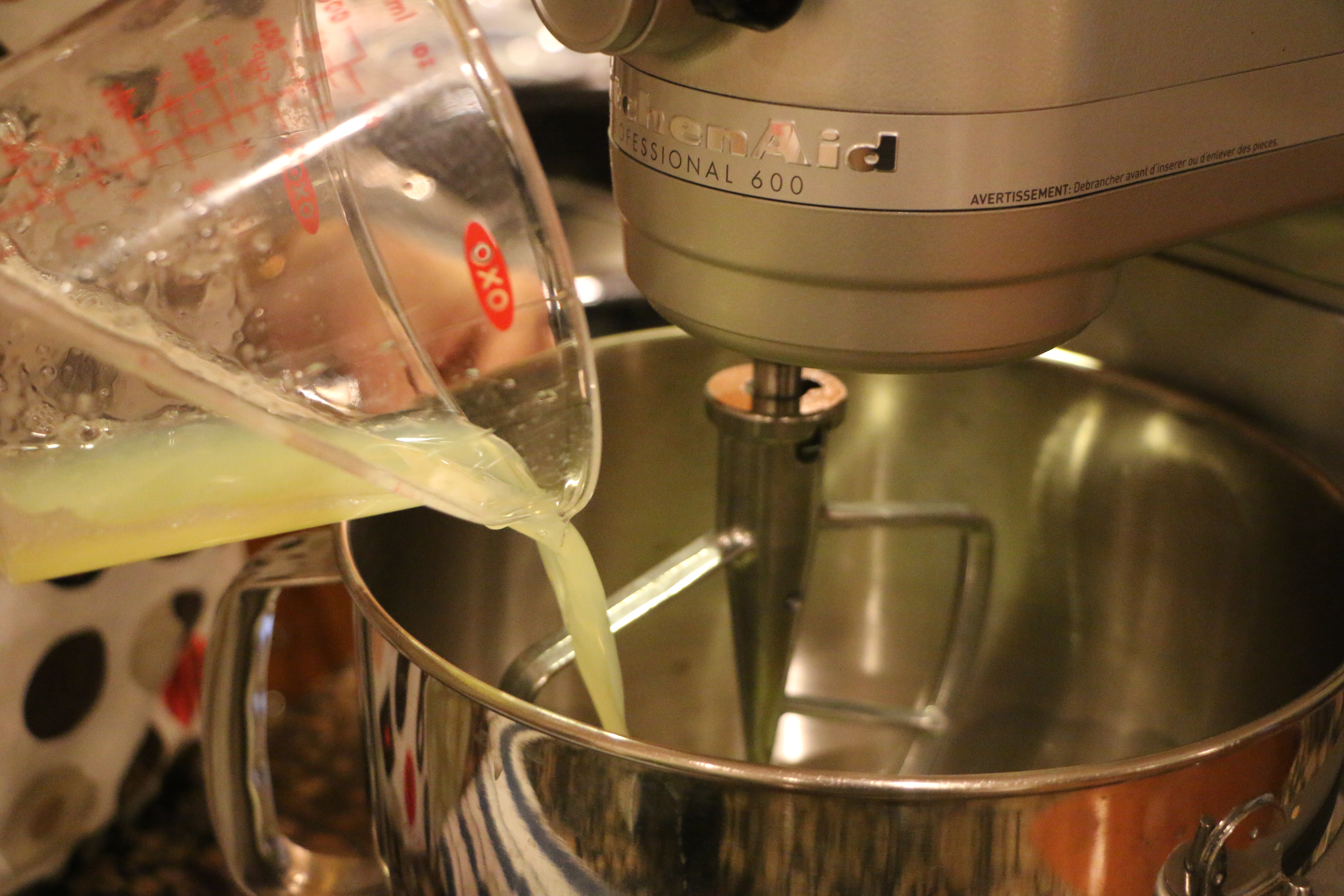 For this next part, I take my bowl off the mixer and grab a spatula (this copper one is extra fun, but I also love this one that's perfect for Valentine's Day and also gives back as a part of Williams Sonoma's partnership with No Kids Hungry).
Sift about one-third of your flour mixture into the egg whites and delicately fold it in with a spatula. The key here is to remember "light and fluffy." Avoid over-folding. You don't want to lose the airiness you created in those glossy peaks. Continue sifting and gently folding until you've added in all of the flour mixture.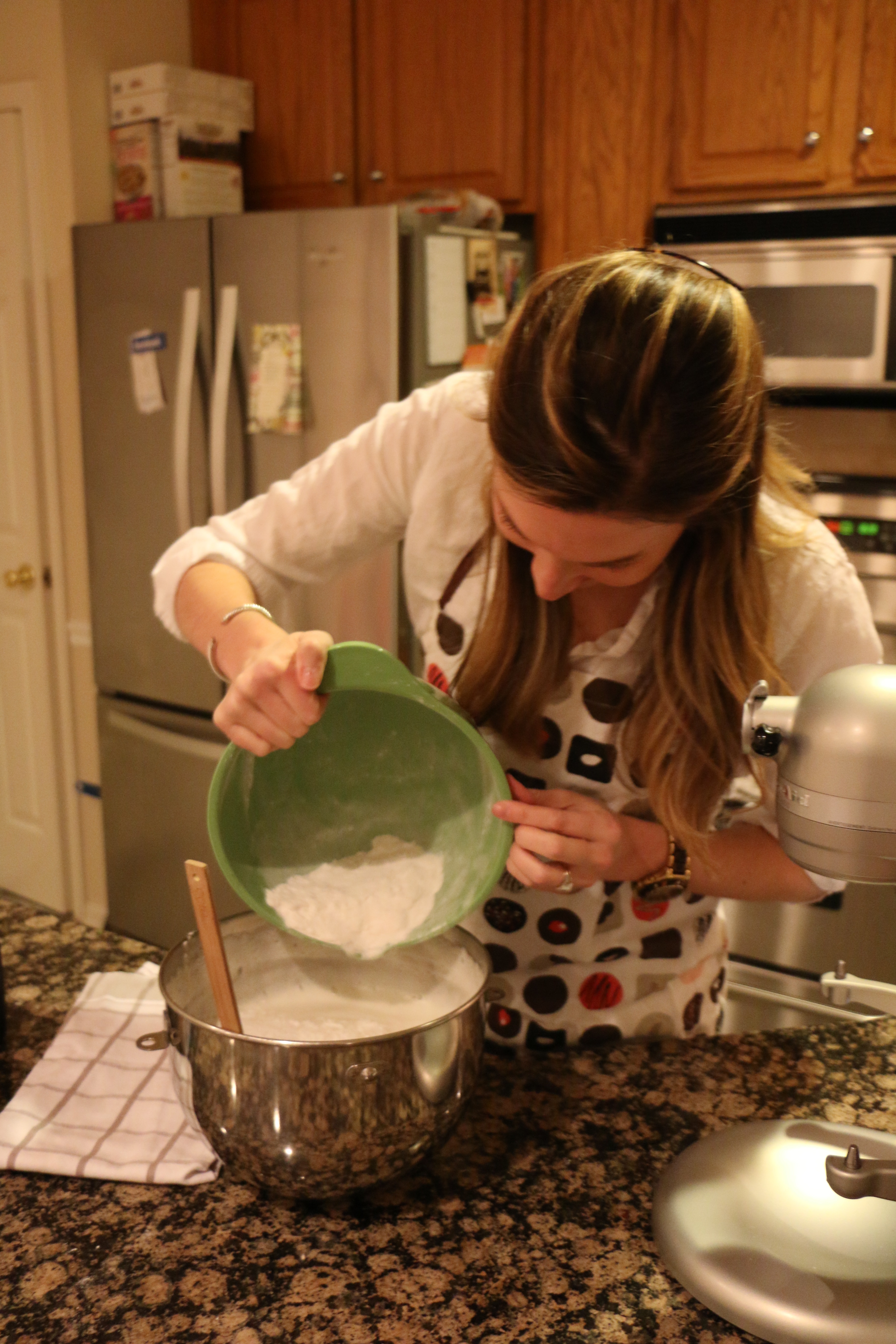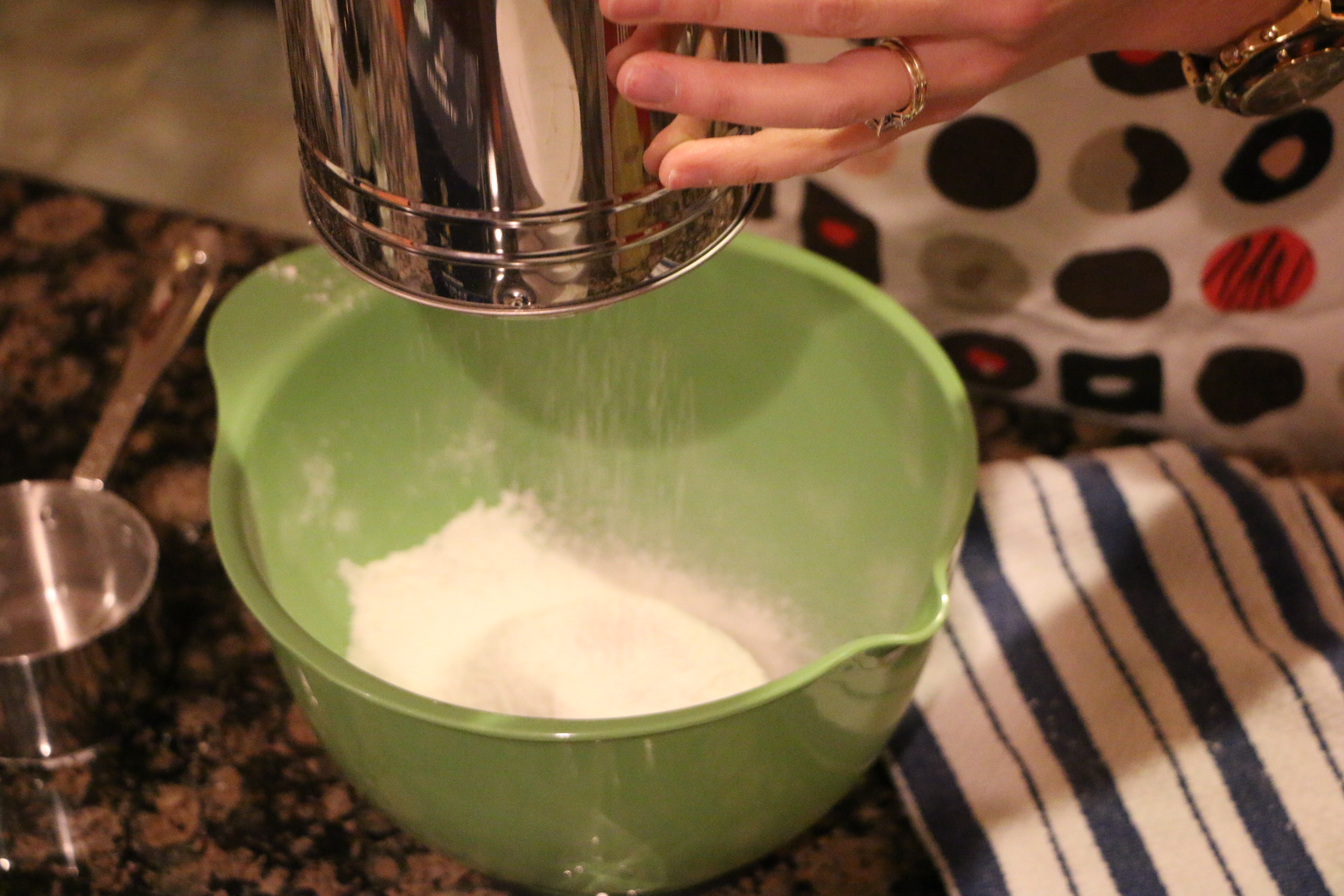 Prep your pan by coating it in nonstick spray, then add a tablespoon of flour to the pan and shake it around until it's fully coated. It may take more than one tablespoon, but it won't take much more. This will keep the cake from sticking to the pan.
Spoon the batter into the cake pan and bake until the cake is golden brown and feels spongy. It will spring back when pressed. This takes about 35-40 minutes in the oven.
Once it's done, turn it upside down onto your cooling rack and let it cool completely. When you're ready to remove it, run a knife along the edge and gently release it.
If you're serving your whole cake, spread your compote on and enjoy. If you're serving by the slice, add your compote slice-by-slice. Enjoy!