A Bright and Fun Spin on the Classic King Cake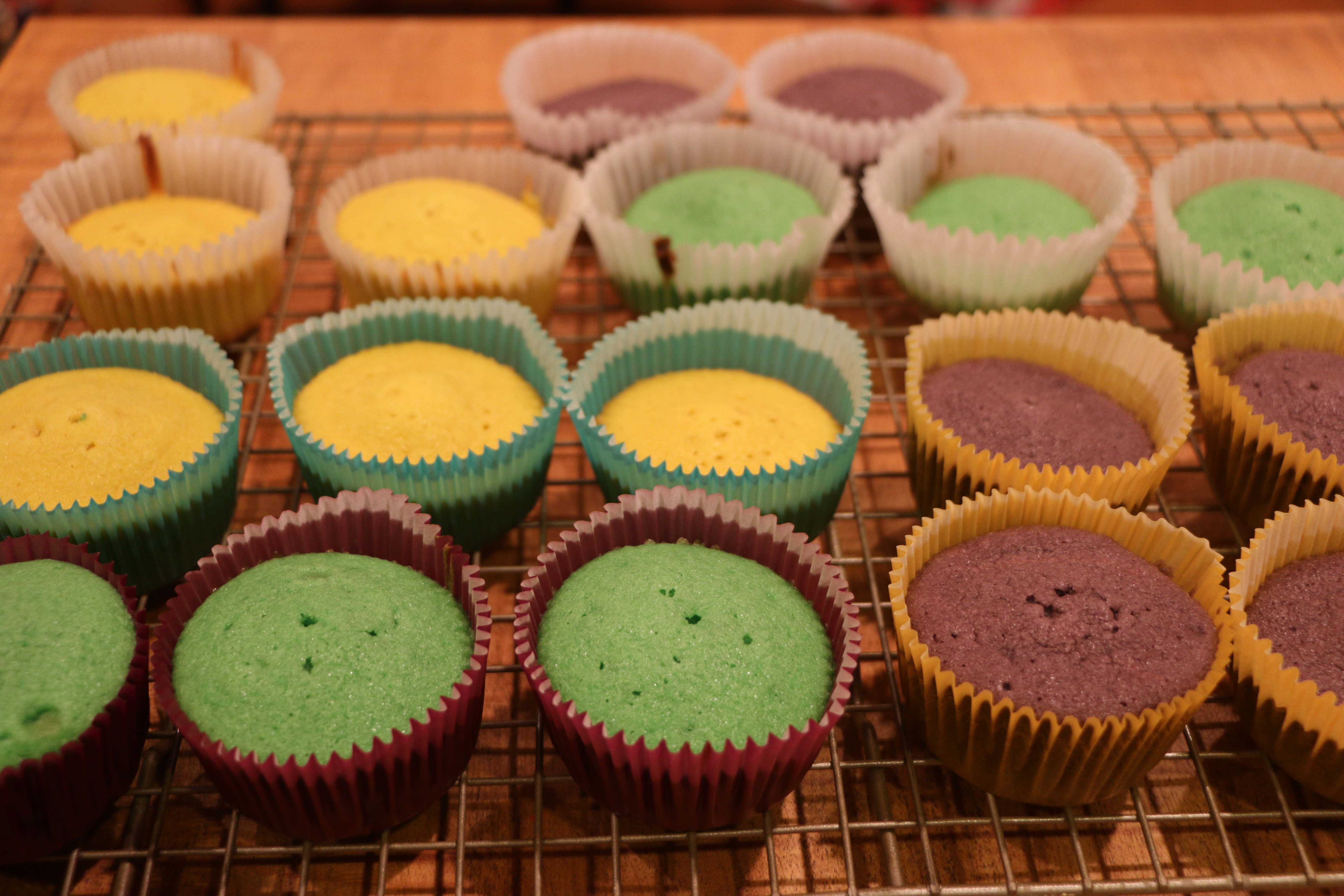 We're celebrating Fat Tuesday with these brightly-colored beauties! These cupcakes are a fun and festive spin on the traditional King Cake, which is typically eaten on January 6th in celebration of Epiphany. Also called the Twelfth Night, Epiphany marks when the three wise men (kings) visited baby Jesus with gifts. King Cakes are enjoyed throughout the Carnival season until Fat Tuesday. Southern Living talks more about the history of the King Cake and its significance in this article here.
We put a spin on the classic King Cake pastry with brightly-colored vanilla cupcakes topped with royal icing and sprinkles. I used to be the person who would take a shortcut and use a doctored-up box mix for the cupcakes until I found this recipe on Food Network. These vanilla cupcakes rival even the most decadent chocolate cupcakes with flavor. One try and they came out moist, rich, and oozing with that buttery vanilla flavor. I gave a nod to the traditional King Cake by adding cinnamon into the batter and topping them with a royal icing drizzle. The colors of the Carnival: purple, gold, and green, are reflected in the sugar sprinkles topping, colors of the cakes, and cupcake liners.
You can find cupcake liners here, here, and here. Plastic baby trinkets can be picked up at your local party shop, including Party City here. And, of course, sugar sprinkles can be found at your local grocery store or here online.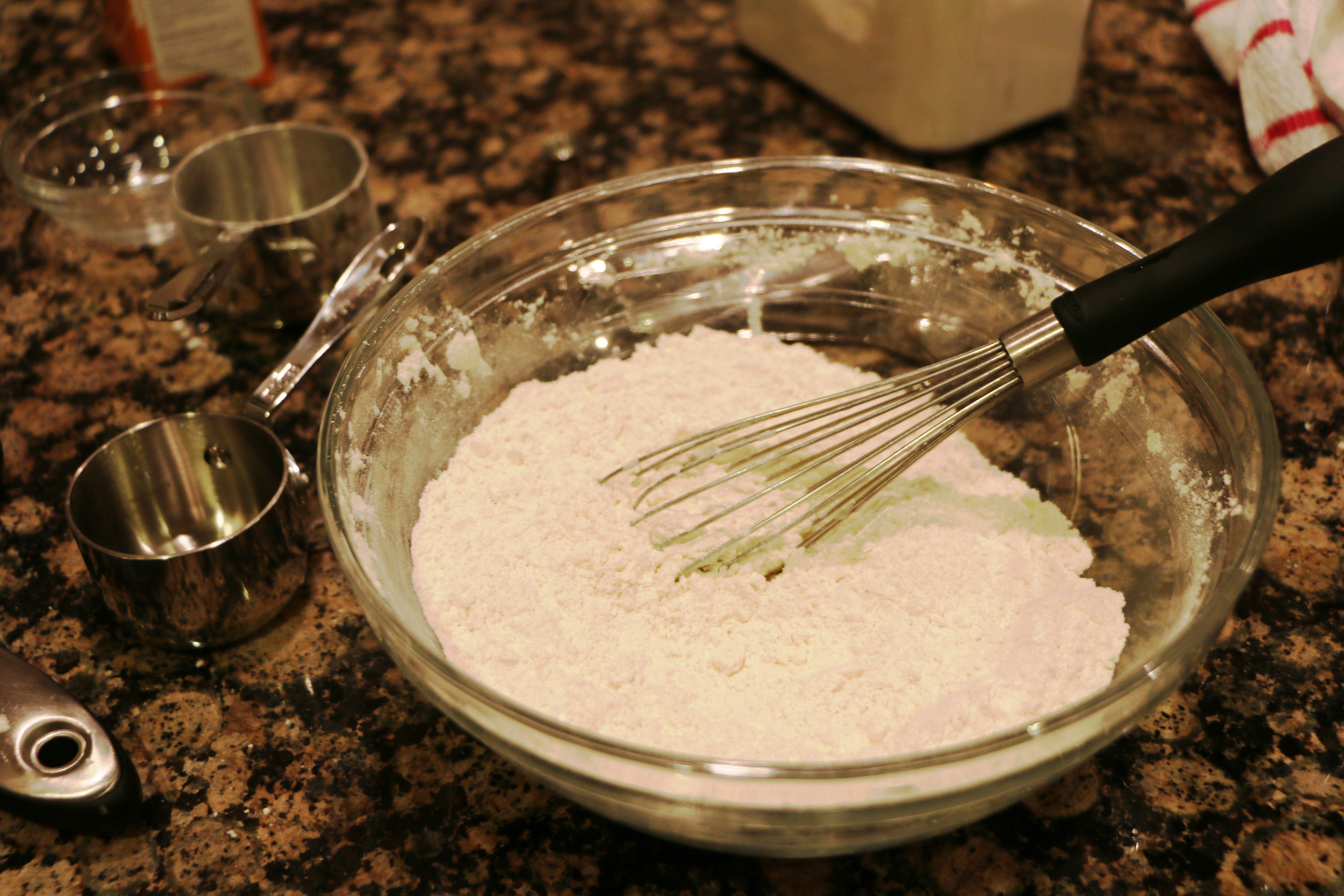 Here's what you'll need
For the Vanilla Cupcakes
Cupcake liners: green, gold (or yellow), and purple
Food coloring in yellow, blue, and red (I used gel food coloring)
1 1/2 cups all-purpose flour
1 1/2 tsp baking powder
1 tbsp cinnamon
1/4 tsp salt
2 large eggs (let them sit out until at room temperature)
2/3 c sugar
1 1/2 sticks (12 tbsp) unsalted butter, melted
2 tsp vanilla extract
1/2 c milk
For the Royal Icing
3 oz egg whites
1 tsp vanilla extract
4 cups confectioners' sugar
Sprinkles: green, gold (or yellow), and purple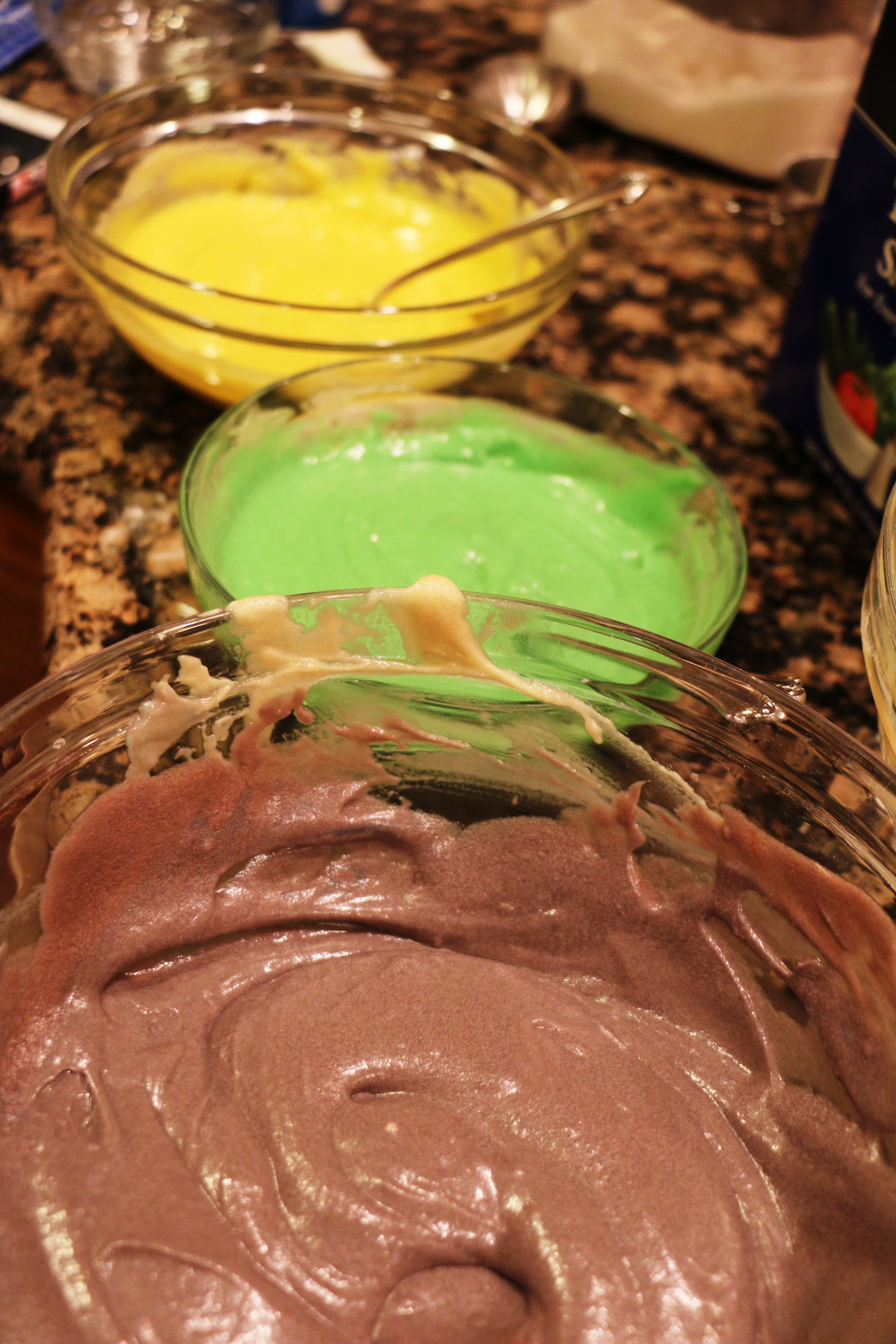 Directions for your cupcakes
I'm working off of this easy vanilla cupcake recipe on Food Network.
Preheat your oven to 350 degrees F and line your muffin tins with the cupcake liners. I used two muffin tins since they made just shy of two dozen cupcakes.
Combine your dry ingredients by whisking the flour, baking powder, cinnamon, and salt together in a medium bowl.
Beat the eggs and sugar with an electric mixer until they have a foamy consistency. This takes about two minutes. Gradually pour in the melted butter, followed by the vanilla extract, while you're mixing.
Reduce your mixer speed and add half of the flour mixture. Next, add all of the milk, followed by the rest of the flour mixture. Be careful not to overmix it.
Divide your batter into three bowls. Mix your colors:
Green – equal parts yellow and blue
Purple – equal parts red and blue (add slowly until it's the shade you want)
Gold/yellow – all yellow
Bake your cupcakes until an inserted toothpick comes out clean. This will take 10-12 minutes for mini cupcakes and 18-20 minutes for regular cupcakes. I started my timer for 12 minutes and checked them every 1-2 minutes or so.
Cool your cupcakes on a cooling rack for about 10 minutes. When you're about five minutes in…pick out one cupcake and insert your baby trinket through the bottom or side, being careful when tearing back the liner (you can always "seal" it back with icing). Let your cupcakes cool for another five minutes or so. This is the perfect time to start on your icing!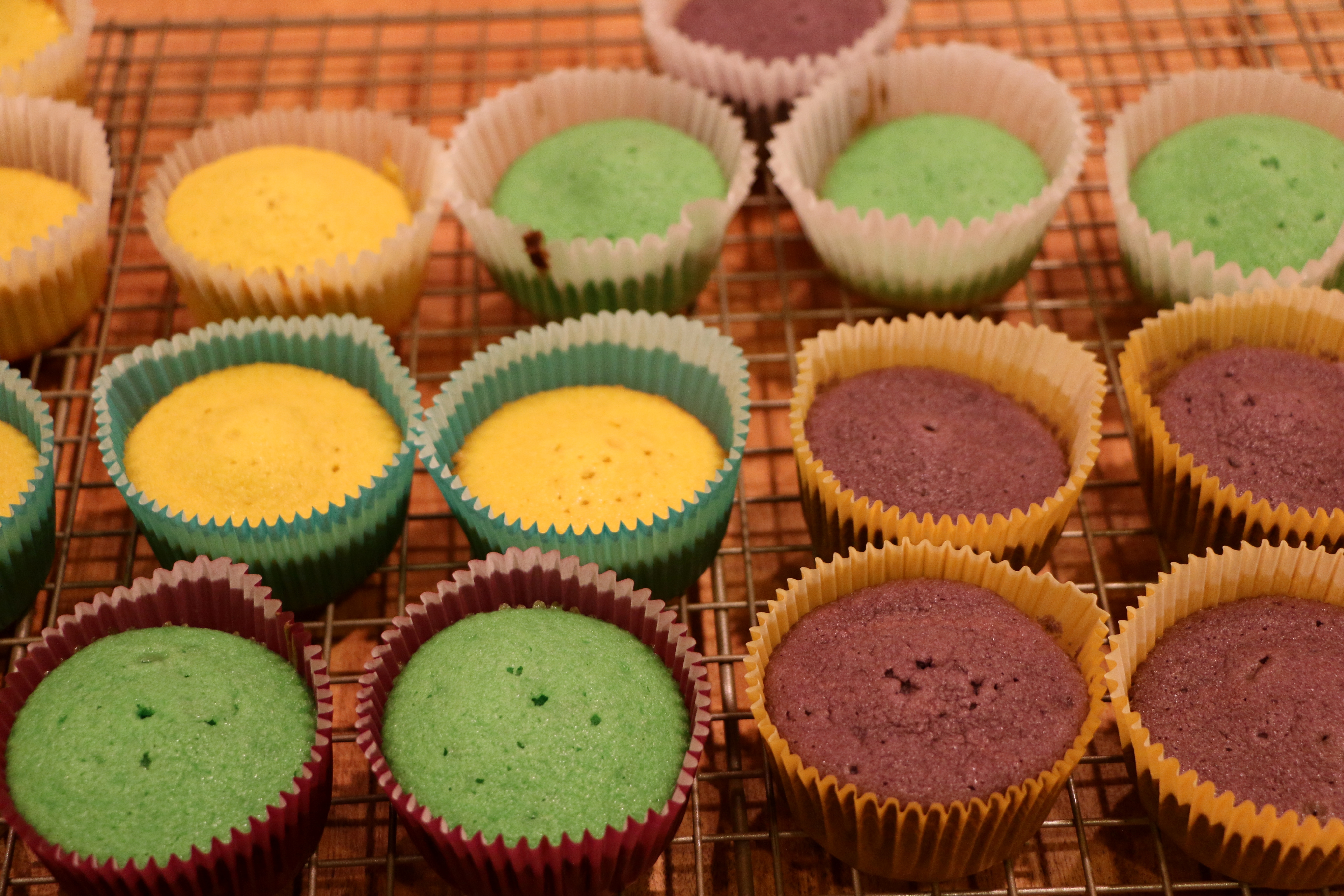 Directions for your Royal Icing
For the icing, I'm working off of Alton Brown's fabulous recipe.
Combine the egg whites and vanilla in your stand mixer. Mix until it has a frothy consistency.
Slowly add your confectioners' sugar while beating on low speed until it's been mixed in completely. The icing will become shiny.
Next, beat on high speed until stiff, glossy peaks form. This takes between five and seven minutes.
The piecing together of everything
Note here that I've left the icing that smooth, shiny, white pastry color. You'll bring in the Carnival colors with the sprinkles. Spoon your icing into a pastry bag or a zip-top bag (cut a small piece of one corner for the icing to flow through).
Arrange your cupcakes in a ring/circle two by two as a nod to the traditional King Cake, alternating colors. A pair of green cupcakes, then a pair of purple cupcakes, etc. Repeat until you close the circle. Drizzle your icing generously over the cupcakes and top with sprinkles of the same corresponding color.
Pro tip: You can also add to the festive spirit by layering them. Simply cut the top off of two cupcakes of different colors just barely to even out the surfaces. Then, stack them on top of one another. You'll want to ice these even more than I have below to make sure the ridges are coated and covered.
Voila! You have a bright and festive display of Carnival spirit. Laissez les bons temps rouler!